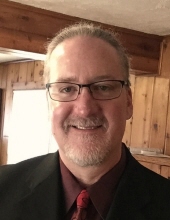 Obituary for Edward Joseph McCartan
E. Joe McCartan, age 49, accomplished sound technician, saxophone player, beloved son, brother, and friend who embodied joy and stoicism with an unrelenting sense of dry humor, died peacefully in his home of a pulmonary embolism on March 11th. Joe was born on July 7th, 1967 in Madison, Wisconsin to Edward (deceased) and Mary McCartan.
Joe graduated from West High School in 1985 where he excelled in art and discovered his passion in music. He played the saxophone in the high school band and jazz ensemble. While attending UW- Lacrosse, he joined the rock band, Mr. Blink. Along with performing at the usual hot spots, he played in the college production of Jesus Christ Superstar. He also performed on stage in Hair. He had to blend in with the cast so he grew his hair long and never cut it short again. He continued to play with Mr. Blink and rarely went anywhere without a cup of his namesake.
After graduating with a BA in Communication in 1991, he moved to Madison. The opportunity to become a sound technician arose. He flew to Vegas and bought all the equipment he would need to freelance and immersed himself in his new career. He soon became one of the most sought after on-location sound technicians in the state. From covering four presidential elections, a Super Bowl, countless professional and collegiate sporting events, to television shows like Making a Murderer, and movies, while employed by major media networks and corporate clients, he was the man in demand. Nominated several times, Joe was the Susan Lucci of the Emmys. He was known for his professionalism in stressful situations, which often occurs in live broadcasting. His quick wit and sarcasm would go a long way. He distinguished himself among others by being particular about sound quality, even though this often meant hauling around a lot more equipment than anyone else. He was a modest man and rarely talked about his accomplishments.
Back in grade school, Joe caught a big fish in Lake Wingra. He rode his bike all the way home while carrying the thirty-six inch Muskie in one hand. Close to his family, he spent a lot of time with them especially for Sunday dinners. He inherited his passion for cooking from his mother, Mary McCartan and owned every Penzey spice they made. He would often look for new recipes on his iPad or concoct new ones after a trip to Costco. He shared a love of camping and art with his father, Ed McCartan. As an avid reader, Amazon will miss his weekly downloads.
Joe moved to Evansville to take care of his parents. Always a trendsetter, he would don his ear flapped hat and strap on a headlamp before taking their Collie, Charlie for a walk. His sisters are having a tough time finding any photos of Joe when he's not goofing around. He enjoyed teasing his niece, Courtney Lindau and shared a love for reggae with his nephew, Kelly Lindau. He's playing the saxophone while his dad sketches him in heaven. Everyone who knew Joe will miss him dearly.
Joe was preceded in death by his father, Edward McCartan and is survived by his mother, Mary McCartan, his sister Susie (Lindau), her husband Danny Lindau and their children, Kelly and Courtney; his sister Patty, and many aunts, uncles, and cousins. Joe was an organ donor. The family would like to thank everyone for their support in this difficult time.
Funeral services will be held at 11:00 AM on Saturday March 25, 2017 at St Paul Catholic Church Evansville with Reverend Kevin Dooley officiating. A visitation will be held from 4:00 PM to 7:00 PM on Friday March 24, 2017 at Ward-Hurtley Funeral Home Evansville and from 10:00 AM until the time of service on Saturday at Church. Burial will be held at a later date in Resurrection Cemetery Madison. Memorials may be made in Joe's name to the UW-Lacrosse Foundation and mailed to 39 North First Street Evansville WI. 53536 or to the American Heart Association in Joe's name.
Previous Events
Visitation
Ward-Hurtley Funeral Home
130 S 5th St
Evansville, WI 53536
Visitation
St. Paul Catholic Church
39 Garfield Ave
Evansville, Wisconsin
Service
St. Paul Catholic Church
39 Garfield Ave
Evansville, Wisconsin
Cemetery Details
Location
Resurrection Cemetery
2705 Regent Street
Mdison, Wisconsin 53705